Read brew-tifully crafted coffee puns for a latte laughs about your favorite drink or while you're sipping on one.
If you're a coffee-lover, coffee puns are right up your alley or cafe.
Related: Silly Laffy Taffy Jokes
Wit and caffeine make an excellent pair.
Also, coffee is one of the most popular beverages in the world. So, keep the puns to yourself or share them with others.
Funny coffee puns
1. Just brew it.
2. It's bean a great day.
3. I'll give it my best shot.
4. I have a latte to do today.
5. Who's coffee-ng?
6. No matter how successful you become, stay grounded.
7. A sad espresso is a depresso.
8. That's doppio!
9. Affogato go to the post office this morning.
10. Better latte than never.
11. Where have you bean?
12. I like big mugs and I cannot lie.
13. Rise and grind.
14. My favorite exercise is the French press.
15. To bean or not to bean?
16. You're under a-roast.
17. I made this espresso-ly for you.
18. I've had bean-ough.
19. That was brew-tal.
20. Alright, kettle down.
21. I whip my cream back and forth.
22. Don't worry, be frappe.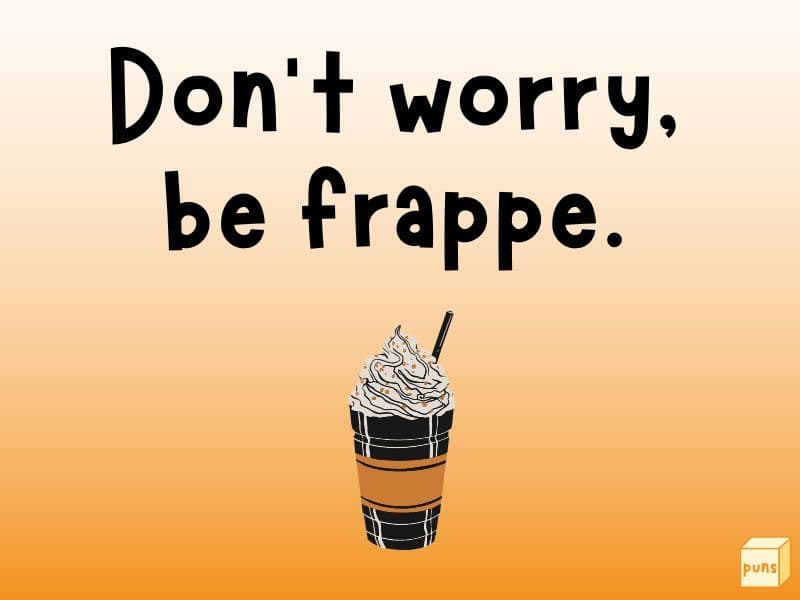 23. Sip happens.
24. I think I've bean to this coffee shop before. I'm getting deja brew.
25. That was a pour choice.
26. I didn't choose the mug life. The mug life chose me.
27. Sorry, affogato name.
28. I don't give a frappe.
29. Java great day!
30. That's un-bean-lievable.
Related: The Best Motivational Puns
Coffee puns about love, romance, and affection
1. You look brew-tiful today.
2. I love you a latte.
3. I want to espresso much you bean to me.
4. You mocha me happy.
5. We're the perfect blend.
6. I'll always make room for you.
7. You mean a latte me.
8. You're steaming hot!
9. Mugs and kisses.
10. My heart beats faster because of brew.
11. I have coffee-lings for you.
12. Let's mocha love.
13. I'd brew anything for you.
14. I'll be with brew until the bitter end.
Related: Hilarious Pick-Up Lines That Work
Appreciation coffee puns to say thank you
1. You're fa-brew-lous.
2. Brew are the best!
3. You've bean amazing. Thank you!
4. Thanks a latte.
5. I can't espresso my gratitude enough.
6. You're mug-nificent.
7. Thank brew so much.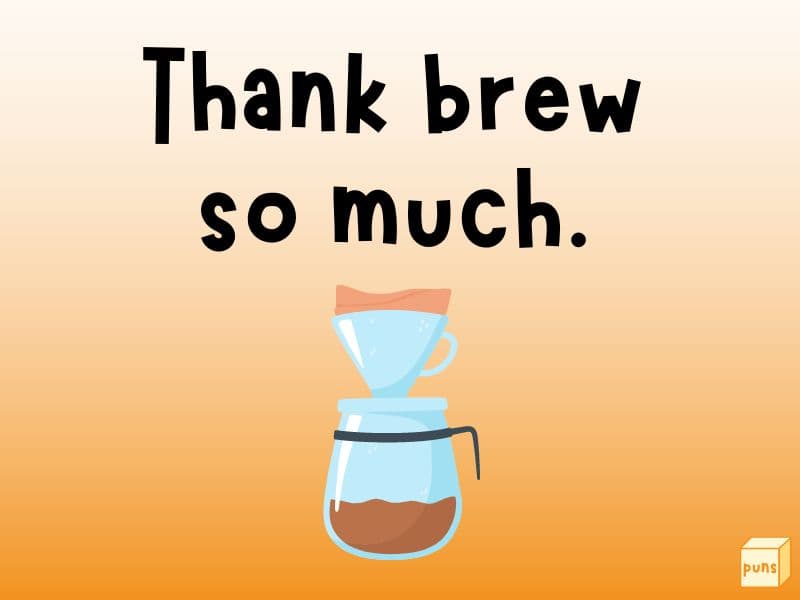 8. Bean-ormous thanks.
9. It takes a latte to be here. So, thank you.
Coffee shop name puns
1. Deja Brew
2. Beany Shop
3. Grounds Coffee
4. Bean there, drank that
5. Brewhaha
6. Java the Hutt
Related: The Funniest Star Wars Puns
7. Steamy Beans
8. Hand Grown, Hand Ground
9. Bean Counters
10. Central Perk
11. The Local Bean
12. Latte Latte Da
13. Grindin' Beans Cafe
14. Bean Dreaming
15. New Day, New Brew
16. The Busy Bean
17. Latte Love Cafe
Coffee pun names
1. Bean Affleck
2. Bean-yonce
3. Al Cappuccino
4. Bean-iffer Lopez
5. Tom Brew-se
6. Brew-ce Lee
7. Brew Barrymore
8. Or-lungo Bloom
9. Scar-latte Johansson
10. Ian Mocha-llen
11. Brew-ce Willis
12. Bean Stiller
13. Antonio Bander-espresso
14. Ariana Ground-e
15. Lady Java
Related posts:
Featured image courtesy of Canva.
About David Em
David Em is the founder of Box of Puns, which he created to add more laughter and humor to life.